Welcome to Syzygy, the premier gathering of sci-fi readers in the Dayton area!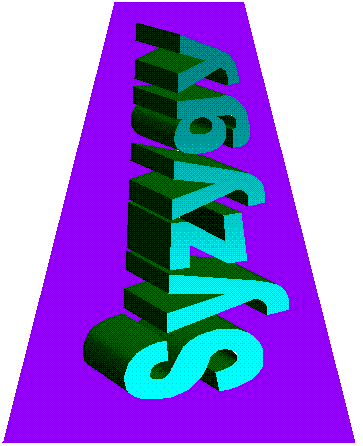 Syzygy is a diverse collection of SF lovers from around Dayton who meet monthly to explore a new book selection in the genial, inquisitive company of fellow fans.
---
New member FAQ
1.

What does it cost to become a member of Syzygy?

Absolutely nothing! The only cost to you is the price of the books, if you choose to buy them. If you check them out of a public library, you can read for free.
2.
Will you sell my e-mail address to spambots?
We don't even want your e-mail address! Just show up at a meeting.
3.
Where and when does the group meet?
Our meetings take place in the Books & Co. retail store in "the Greene" shopping center, at the corner of I-675 and Indian Ripple/Dorothy Lane, in Beavercreek. (See map below.) We normally meet at 7:00 pm on the second Wednesday of the month. This can change with holiday closings, or the opportunity for author signings, so it is good to stay in touch with our fearless leader.
4.
Who picks the books you read?
The members themselves pick out future readings in a dignified and egalitarian process, sometimes involving paper airplanes and lots of shouting :-}. Really, if you have a good idea, just bring it to a meeting.
5.
Where can I get copies of the books?
You can:

See our separate list of resources.
---
In the following reading lists:
If we know the location of an author's official home page, that is hyperlinked to his/her name,
If we have located an objective review of a book, that is hyperlinked to the title.
If we could only find an amateur review or an unofficial author home page, it/they will be hyperlinked to individual letters of the title or name, respectively.
The reviews have not been screened for spoiler material, so we advise against reading a review before you read its book.
Past reading list
Current reading list
2014

May 14
Wool
Hugh Howey
In this dystopian, tightly-controlled future, all humanity lives in a silo hundreds of stories deep to escape from the deadly atmosphere on the surface. They can see the ruined landscape in grainy images from TV cameras on the surface. But the lenses eventually become covered in pollution. To live there, you must follow the rules.

Yet people long to return to the surface and a heroine rises up from within them to embody that hope. Juliette is a mechanic and her outspokenness gets her sentenced to a trip outside in a protective suit to clean the camera lenses--a trip from which no one has ever returned alive. This injustice foments an uprising amongst her fellow mechanics.

And Ridley Scott has purchased the film rights to this work.

June 11
The Shape of Things to Come
H. G. Wells
In this early future history, Wells predicted that a second world war would break out between the Germans and the Poles in Danzig in January 1940. (He missed the actual date by 4 months!) Unlike the real timeline, the battle degenerates into the trench warfare that characterized WWI, lasting into the 1950's, when all world governments have spent themselves into bankruptcy, and a plague of unknown origen nearly exterminates the human race. Here a benevolent dictatorship of scientists from all nations who control the transportation systems establish a unified, world-wide government. The new world order tries to grow into a society of Polymaths-whose every member is the intellectual equal of a Newton or daVinci. Among the accurate technological predictions are submarine-launched ballistic missiles (but no nuclear warheads); and the recognition that such weapons would be a significant deterrent to war, without being used; that the Japanese would try and fail to conquer China. He also (inaccurately) predicted the eradication of worldwide religion by the new state.
July 9
The City and The City
China Mi้ville
In this not-quite-right copy of contemporary Earth, Mi้ville presents the twin cities of Beszel and Ul Qoma, which occupy the same 3-dimensional space, but are separated by an unknown dimension. Residents of each city can sometimes see things in the other city, but are forbidden by law to notice. They have developed the habit of 'unseeing', a thinly disguised metaphor for certain customs in our society.

When the body of a young woman is found in the slums, Inspector Borl๚ of the Beszian Extreme Crime Squad takes the case and quickly realizes it must involve an illegal transit between the cities but someone is trying to suppress that element of his investigation.

He eventually gains permission to pass to the other side, where he learns the girl was working on an archaological dig and had suspected there was a third city in the same space, unseen by anyone; but every time he come across a clue, the person with the answer disappears.

But the dedicated Borl๚ forges on, risking his own life, challenging the mores of his time, to find the shocking answer.

August 13
The Handmaid's Tale
Margaret Atwood
Offred is a 'handmaid' in the post-United-States, Christian fundamentalist state of Gilead. Her job title comes from the Biblical story of Jacob and his two competitive wives, who donated their handmaids to help grow his tribe during times of infertility. Offred's fate is to bear children for rich women who have been rendered sterile by an environment poisoned by war. Yet she remembers her former life as a wife a mother, and the right to vote--without bitterness. She embraces a rich inner life to escape from her brutal external reality. This book won the first Arthur C. Clarke prize and was nominated for a Nebula.
---
Our meeting place
Syzygy meets on the second Wednesday of the month at Books & Co., in "The Greene" shopping center in Beavercreek (See map at right). Meeting night and/or location can change with holiday closings or author signings, so it is good to stay in touch with our fearless leader. Meetings start at 7:00 pm and last around an hour.
We meet on the second floor, in front of the fireplace. If you don't see us, ask at the customer service desk.
---
Readers' resources (How to get the books)
Essentially, you can buy or borrow your books. If you choose to buy them you can shop among assorted on-line booksellers:
| | | |
| --- | --- | --- |
| Bookseller | | Comments |
| | | Amazon.com now sells used books, too. They offer sample pages you can read on-line. |
| | | We sometimes find books here, not available domestically. |
| | | Also offers on-line excerpts. |
| | | Another British retailer, with an outstanding SF section |
If you live in the Dayton area, you can check the various national chains who have outlets here:
Name
Location
Phone
Comments
Barnes & Noble
2619 Miamisburg-Centerville Rd
433-0750
2720 Towne Dr
429-1660
Halfprice Books
2090 Miamisburg-Centerville Rd
438-0249
These folks are serious about that "half price" bit. We once bought a vintage paperback of the original 2001, A Space Odyssey there for 47¢.
Dayton also has a few independent booksellers:
| | | | | | | |
| --- | --- | --- | --- | --- | --- | --- |
| Name | | Location | | Phone | | Comments |
| Books & Co. at The Greene | | 4453 Walnut St | | 429-2169 | | This is our meeting site. If you mention at the register that your purchase is on the Syzygy reading list, you will get a 10% discount. This is in addition to the "Millionaire's Club" discount, if you also have a store card. |
If you have a library card from any Montgomery county library, you can borrow your book from any library in the county that has it.
Go the the Dayton Metro Library home page .
Click on "Catalog" (top of page).
Fill in as much as you know about the book and click "Go".
If that doesn't work, click "Other Libraries".
Click on "More Ohio". (You will have to enable cookies on your browser, and pull out your library card to use this service.)
Click "Standard Search". Fill in your title & try again. This scans dozens of libraries around the area.
If you get hits, the "Details" link will tell you which library or libraries have it.
If you live in Greene county, you can look up books in the "card catalog" of the Greene County Public Library. They seem to have the newer titles!

There are more public libraries in the area outside both these systems:

Finally, if you live outside the range of any of these, you can still probably locate a library near you at:
---
Links of interest to SF lovers
Search the world wide web for "science fiction" and you will get lots of hits: primarily about TV shows, movies, gaming, or conventions. All the SF links in this section are targetted at people who like books. Many of the names don't tell you much about the services they offer, so we've tried to arrange them by service.
Lists of "the best SF ever written"
Indices of author homepages
Author biographies
Author bibliographies

Book reviews
Interviews
Electronic magazine(s)
Miscellaneous
---
Contact us
For additional information about the Syzygy group, or provide comments about this web site, write to our fearless leader at the following URL:

.
---
The Syzygy readers' group home page/Revised April 2014

Copyright © 2014, Gary Lynch. All rights reserved.