Welcome to Syzygy, the premier gathering of sci-fi readers in the Dayton area!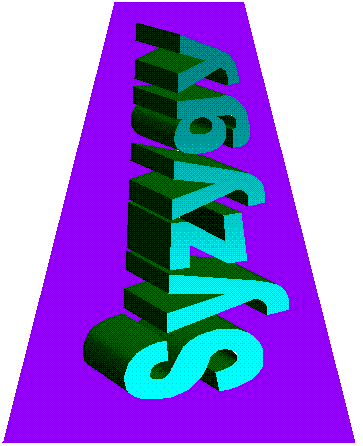 Syzygy is a diverse collection of SF lovers from around Dayton who meet monthly to explore a new book selection in the genial, inquisitive company of fellow fans. It started in August of 2005 and has met every month since.
---
New member FAQ
1.

What does it cost to become a member of Syzygy?

Absolutely nothing! The only cost to you is the price of the books, if you choose to buy them. If you check them out of a public library, you can read for free.
2.
Will you sell my e-mail address to spambots?
We don't even want your e-mail address! Just show up at a meeting.
3.
Where and when does the group meet?
Our meetings take place in the Books & Co. retail store in "the Greene" shopping center, at the corner of I-675 and Indian Ripple/Dorothy Lane, in Beavercreek. (See map below.) We normally meet at 7:00 pm on the second Wednesday of the month. This can change with holiday closings, or the opportunity for author signings, so it is good to stay in touch with our fearless leader.
4.
Who picks the books you read?
The members themselves pick out future readings in a dignified and egalitarian process, sometimes involving paper airplanes and lots of shouting :-}. Really, if you have a good idea, just bring it to a meeting.
5.
Where can I get copies of the books?
You can:

See our separate list of resources.
---
In the following reading lists:
If we know the location of an author's official home page, that is hyperlinked to his/her name,
If we have located an objective review of a book, that is hyperlinked to the title.
If we could only find an amateur review or an unofficial author home page, it/they will be hyperlinked to individual letters of the title or name, respectively.
The reviews have not been screened for spoiler material, so we advise against reading a review before you read its book.
Past reading list
Current reading list
2015

October 14
The Fifth Head of Cerberus
Gene Wolfe
Set in a distant solar system, where two planets orbit each other and which per legend were once inhabited by shapeshifters, Fifth Head consists of 3 novellas (originally published separately):

The son of a mad genius and his brother research their mysterious upbringing in a brothel and discover a hideous heritage,
Another young man's dreamquest on a planet full of hostile tribes for his darker twin half, and
The story of a scientist's imprisonment after visiting the brothel in the first story.

As in an Arthur Hailey novel, the stories only merge into each other at the dramatic ending of the book.

Critics have taken umbrage with the author's use of ambiguity, a technique not everyone can appreciate.

November 11
Zoo City
Lauren Beukes
Zoo City is a slum outside a future Johannesburg where those who have committed crimes are 'animalled', given a mshavi animal that is a manifestation of their crimes. Zinzi December has a talent for finding things, but when one of her clients turns up dead she is attached to a sloth and forced to resume her least favorite profession: missing persons. Her first case is to locate a teenybop pop star. But instead of buying her way out of the slum it catapults her into the dark underbelly of the dark city.
December 9
Echo
Jack McDevitt

In eight thousand years of spacefaring, humanity has never encountered another intelligent, extra-terrestrial species. Eccentric explorer Sunset Tuttle spent his entire life trying to change that and seemed to die (30 years ago) unfulfilled.

Then antiquities dealer (and amateur detective) Alex Benedict reads about a stone tablet that has sat--unnoticed--all these years in Tuttle's back yard, that contains inscriptions that don't correspond to any known language. But before he can study it, it disappears in the hands of Rachel Bannister, Tuttle's former lover.

Believing that Tuttle may have succeeded in his quest, but for unknown reasons taken the secret to his grave, Benedict (and his capable assistant Chase Kolpath) set out to uncover the mystery behind this controversial object and get more than they bargained for.

Echo is the 5th entry in the (currently) 7-book Alex Benedict series. Each book is self-contained and does not need to be read in sequence. Those who appreciated Asimov's The Caves of Steel mystery will see a strong similarity.

2016

January 13
Leviathan Wakes
James S. A. Corey

Jim Holden runs an ice mining colony in the rings of Saturn. He stumbles upon an derelict ship, "The Scopuli," which harbors a secret so powerful that someone is willing to kill for it. Unless he can find out where this ship came from war may break out.

Detective Miller is looking for a girl with rich parents and the trail leads him to the "The Scopuli." Holden & Miller must solve the mystery, making careful tracks between the Earth's government, the outer planet revolutionaries and the secretive corporations that control the mines.

February 10
Blood Music
Greg Bear
Vergil Ulam has made a revolutionary breakthrough in genetic engineering--an intelligent noocyte that inhabits a host and works at the cellular level to improve it, only to see his project shut down. Rather than destroy his life's work, he injects it into himself, without realizing how his actions will change history.
---
Our meeting place
Syzygy meets on the second Wednesday of the month at Books & Co., in "The Greene" shopping center in Beavercreek (See map at right). Meeting night and/or location can change with holiday closings or author signings, so it is good to stay in touch with our fearless leader. Meetings start at 7:00 pm and last around an hour.
We meet on the second floor, in front of the fireplace. If you don't see us, ask at the customer service desk.
---
Readers' resources (How to get the books)
Essentially, you can buy or borrow your books. If you choose to buy them you can shop among assorted on-line booksellers:
| | | |
| --- | --- | --- |
| Bookseller | | Comments |
| | | Amazon.com now sells used books, too. They offer sample pages you can read on-line. |
| | | We sometimes find books here, not available domestically. |
| | | Also offers on-line excerpts. |
| | | An Oregon-based independent with a strong sci-fi section. |
If you live in the Dayton area, you can check the various national chains who have outlets here:
Name
Location
Phone
Comments
Barnes & Noble
2619 Miamisburg-Centerville Rd
433-0750
2720 Towne Dr
429-1660
Halfprice Books
2090 Miamisburg-Centerville Rd
438-0249
These folks are serious about that "half price" bit. We once bought a vintage paperback of the original 2001, A Space Odyssey there for 47¢.
Dayton also has a few independent booksellers:
| | | | | | | |
| --- | --- | --- | --- | --- | --- | --- |
| Name | | Location | | Phone | | Comments |
| Books & Co. at The Greene | | 4453 Walnut St | | 429-2169 | | This is our meeting site. If you mention at the register that your purchase is on the Syzygy reading list, you will get a 10% discount. This is in addition to the "Millionaire's Club" discount, if you also have a store card. |
If you have a library card from any Montgomery county library, you can borrow your book from any library in the county that has it.
Go the the Dayton Metro Library home page .
Click on "Catalog" (top of page).
Fill in as much as you know about the book and click "Go".
If that doesn't work, click "Other Libraries".
Click on "More Ohio". (You will have to enable cookies on your browser, and pull out your library card to use this service.)
Click "Standard Search". Fill in your title & try again. This scans dozens of libraries around the area.
If you get hits, the "Details" link will tell you which library or libraries have it.
If you live in Greene county, you can look up books in the "card catalog" of the Greene County Public Library. They seem to have the newer titles!

There are more public libraries in the area outside both these systems:

Finally, if you live outside the range of any of these, you can still probably locate a library near you at:
---
Links of interest to SF lovers
Search the world wide web for "science fiction" and you will get lots of hits: primarily about TV shows, movies, gaming, or conventions. All the SF links in this section are targetted at people who like books. Many of the names don't tell you much about the services they offer, so we've tried to arrange them by service.
Lists of "the best SF ever written"
Indices of author homepages
Author biographies
Author bibliographies

Book reviews
Interviews
Electronic magazine(s)
Miscellaneous
---
Contact us
For additional information about the Syzygy group, or provide comments about this web site, write to our fearless leader at the following URL:

.
---
The Syzygy readers' group home page/Revised September 2015

Copyright © 2015, Gary Lynch. All rights reserved.