Welcome to Syzygy, the premier gathering of sci-fi readers in the Dayton area!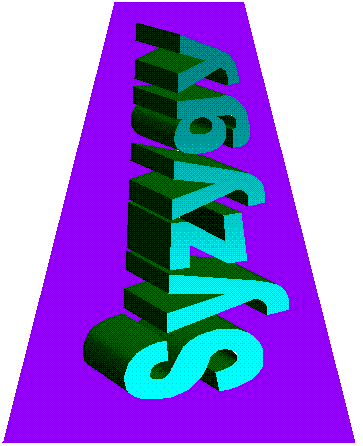 Syzygy is a diverse collection of SF lovers from around Dayton who meet monthly to explore a new book selection in the genial, inquisitive company of fellow fans. It started in August of 2005 and has met every month since.
---
New member FAQ
1.

What does it cost to become a member of Syzygy?

Absolutely nothing! The only cost to you is the price of the books, if you choose to buy them. If you check them out of a public library, you can read for free.
2.
Will you sell my e-mail address to spambots?
We don't even want your e-mail address! Just show up at a meeting.
3.
Where and when does the group meet?
Our meetings take place in the Books & Co. retail store in "the Greene" shopping center, at the corner of I-675 and Indian Ripple/Dorothy Lane, in Beavercreek. (See map below.) We normally meet at 7:00 pm on the second Wednesday of the month. This can change with holiday closings, or the opportunity for author signings, so it is good to stay in touch with our fearless leader.
4.
Who picks the books you read?
The members themselves pick out future readings in a dignified and egalitarian process, sometimes involving paper airplanes and lots of shouting :-}. Really, if you have a good idea, just bring it to a meeting.
5.
Where can I get copies of the books?
You can:

See our separate list of resources.
---
In the following reading lists:
If we know the location of an author's official home page, that is hyperlinked to his/her name,
If we have located an objective review of a book, that is hyperlinked to the title.
If we could only find an amateur review or an unofficial author home page, it/they will be hyperlinked to individual letters of the title or name, respectively.
The reviews have not been screened for spoiler material, so we advise against reading a review before you read its book.
Past reading list
Current reading list
2015

February 11
Starfish
Peter Watts
In a society that derives most its energy from geothermal plants in the Juan de Fuca Ridge, under the Pacific Ocean, the Grid Authority has staffed its underwater power plants with humans so unfit for life in normal society, that they willingly accept the surgical modifications that allow them to breathe underwater and withstand tremendous pressure. With their boss viewing them as less than human, there is not much joy in the lives of the inhabitants of Beebe Station. Lenie Clarke fights to overcome her childhood abuse and establish herself in a society of violent misfits.
March 11
The Martian
Andy Weir
Astronaut Mark Watney is a mission specialist who--through a tragic sequence of mishaps--finds himself alone, stranded on Mars, and without the means to even contact Earth. His best hope lies in reaching the site of the next landing: 4 years hence, but he has nowhere near enough air, water, or food to hold out that long, let alone travel 2,000 miles in a rover designed for local scouting.

But Watney is an unstoppable optimist, brilliant engineer (and a likeable smart aleck). He plots his way to survival, one crisis at a time (and Mars has plenty in store for him). The last 50-100 pages reach that sublime literary plateau previously characterized as 'unputdownable.' (You need to allow yourself plenty of time.)

April 8
In War Times
Kathleen Ann Goonan
After his brother dies at Pearl Harbor, Sam Dance enlists in the Army and starts studying physics, hoping to find a technology that will put an end to war. He is deeply influenced by Hungarian physics professor Eliani Handtz, who entrusts him with a machine that might be the answer to his prayers. Sam keeps working on the device, trying to get it to work--only to discover that it has been working all along: just not the way he had planned.

As in all Goonan works, music (in this case Jazz) plays an important role in the plot.

May 13
The Cusanus Game
Wolfgang Jeschke
In 2052 much of central Europe has been rendered uninhabitable by some vaguely-described industrial accident. Refugees are streaming out of the disaster area only to be murdered by inhabitants of green regions--afraid of being overwhelmed. Mutated plants and animals make exploration of the "dead zone" even more dangerous.

Domenica Ligrina is a newly graduated botanist and fan of the works of 15th century cardinal, philosopher, and astronomer Nicolaus Cusanus. She cannot find work until she is recruited by a Vatican representative who wants to send her back into the 15th century to collect seed & plant samples to restore the destroyed environment.

But she cannot hide her intelligence and independence in the paranoid middle ages and soon finds herself charged with witchcraft. She decides her greatest hope lies in seeking the help of Cusanus himself.

June 10
The Carpet Makers
Andreas Eschbach
In a distant time, on a far-away planet, the hair carpet weavers create carpets for the emperor's palace, using only hair from their wives' and daughters' heads. So difficult is the work, and so high the standards, that production of one carpet takes an entire lifetime, but the proceeds from the sale of that one carpet can support a family for a whole generation. Thus each generation provides for the one that follows. It has been this way for as long as anyone can recall, and all other industry on the planet serves only to support the work of the weavers.

Then one day a space ship lands--not to buy and carry away this year's crop of carpets--but to stun the inhabitants with an announcement that will turn their universe upside down.

July 8
Inverted World
Christopher Priest
An entire city is winched along tracks through a devastated landscape full of hostile tribes. Every day the tracks must be fresh laid in front of the city and carefully picked up behind it, to keep the city out of the pull of an annihilating gravitational field. The population may not go outside or even know where they are going or why.

Halward Mann completes his education and becomes a member of the elite guild responsible for this difficult task, where he learns that the world outside the city is infinitely stranger than was led to believe.

The reader is pulled in from the first sentence: "I had reached the age of six hundred and fifty miles," up to the surprizing (and renown) conclusion of the story.

August 12
Mardock Scramble
Tow Ubukata
In the original Japanese, this was a 3-volume series. It was later turned into a 7-volume manga (comic book) and in 2010 was made into 3 animated films. When the book was translated to English, it was combined into a single volume.

Rune Ballot is a teenaged prostitute who is first protected by gambler Shell Septinous, only to have him attack and attempt to murder her after she becomes aware of his crimes. She is rescued at the last minute by private eye, Dr. Easter, who gives her cybernetic implants (think 6 Million Dollar Man) to aid in her self-defense and he convinces her to help them go after Septinous. Easter has a sidekick named Oeufcoque, who is some kind of genetically modified mouse with the ability to shapeshift.

The central third of the novel takes place inside a casino, consists of 370 pages of strategies for playing roulette, blackjack, and Texas Hold 'Em, and doesn't contribute that much to the plot.
---
Our meeting place
Syzygy meets on the second Wednesday of the month at Books & Co., in "The Greene" shopping center in Beavercreek (See map at right). Meeting night and/or location can change with holiday closings or author signings, so it is good to stay in touch with our fearless leader. Meetings start at 7:00 pm and last around an hour.
We meet on the second floor, in front of the fireplace. If you don't see us, ask at the customer service desk.
---
Readers' resources (How to get the books)
Essentially, you can buy or borrow your books. If you choose to buy them you can shop among assorted on-line booksellers:
| | | |
| --- | --- | --- |
| Bookseller | | Comments |
| | | Amazon.com now sells used books, too. They offer sample pages you can read on-line. |
| | | We sometimes find books here, not available domestically. |
| | | Also offers on-line excerpts. |
| | | An Oregon-based independent with a strong sci-fi section. |
If you live in the Dayton area, you can check the various national chains who have outlets here:
Name
Location
Phone
Comments
Barnes & Noble
2619 Miamisburg-Centerville Rd
433-0750
2720 Towne Dr
429-1660
Halfprice Books
2090 Miamisburg-Centerville Rd
438-0249
These folks are serious about that "half price" bit. We once bought a vintage paperback of the original 2001, A Space Odyssey there for 47¢.
Dayton also has a few independent booksellers:
| | | | | | | |
| --- | --- | --- | --- | --- | --- | --- |
| Name | | Location | | Phone | | Comments |
| Books & Co. at The Greene | | 4453 Walnut St | | 429-2169 | | This is our meeting site. If you mention at the register that your purchase is on the Syzygy reading list, you will get a 10% discount. This is in addition to the "Millionaire's Club" discount, if you also have a store card. |
If you have a library card from any Montgomery county library, you can borrow your book from any library in the county that has it.
Go the the Dayton Metro Library home page .
Click on "Catalog" (top of page).
Fill in as much as you know about the book and click "Go".
If that doesn't work, click "Other Libraries".
Click on "More Ohio". (You will have to enable cookies on your browser, and pull out your library card to use this service.)
Click "Standard Search". Fill in your title & try again. This scans dozens of libraries around the area.
If you get hits, the "Details" link will tell you which library or libraries have it.
If you live in Greene county, you can look up books in the "card catalog" of the Greene County Public Library. They seem to have the newer titles!

There are more public libraries in the area outside both these systems:

Finally, if you live outside the range of any of these, you can still probably locate a library near you at:
---
Links of interest to SF lovers
Search the world wide web for "science fiction" and you will get lots of hits: primarily about TV shows, movies, gaming, or conventions. All the SF links in this section are targetted at people who like books. Many of the names don't tell you much about the services they offer, so we've tried to arrange them by service.
Lists of "the best SF ever written"
Indices of author homepages
Author biographies
Author bibliographies

Book reviews
Interviews
Electronic magazine(s)
Miscellaneous
---
Contact us
For additional information about the Syzygy group, or provide comments about this web site, write to our fearless leader at the following URL:

.
---
The Syzygy readers' group home page/Revised February 2015

Copyright © 2015, Gary Lynch. All rights reserved.