Welcome to Syzygy, the premier gathering of sci-fi readers in the Dayton area!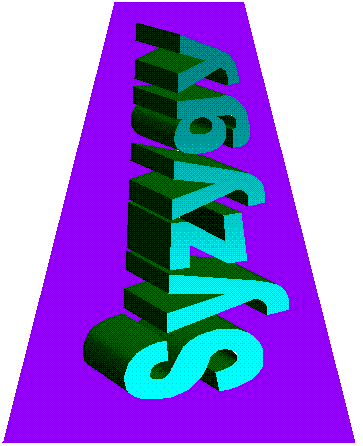 Syzygy is a diverse collection of SF lovers from around Dayton who meet monthly to explore a new book selection in the genial, inquisitive company of fellow fans.
---
New member FAQ
1.

What does it cost to become a member of Syzygy?

Absolutely nothing! The only cost to you is the price of the books, if you choose to buy them. If you check them out of a public library, you can read for free.
2.
Will you sell my e-mail address to spambots?
We don't even want your e-mail address! Just show up at a meeting.
3.
Where and when does the group meet?
Our meetings take place in the Books & Co. retail store in "the Greene" shopping center, at the corner of I-675 and Indian Ripple/Dorothy Lane, in Beavercreek. (See map below.) We normally meet at 7:00 pm on the second Wednesday of the month. This can change with holiday closings, or the opportunity for author signings, so it is good to stay in touch with our fearless leader.
4.
Who picks the books you read?
The members themselves pick out future readings in a dignified and egalitarian process, sometimes involving paper airplanes and lots of shouting :-}. Really, if you have a good idea, just bring it to a meeting.
5.
Where can I get copies of the books?
You can:

See our separate list of resources.
---
In the following reading lists:
If we know the location of an author's official home page, that is hyperlinked to his/her name,
If we have located an objective review of a book, that is hyperlinked to the title.
If we could only find an amateur review or an unofficial author home page, it/they will be hyperlinked to individual letters of the title or name, respectively.
The reviews have not been screened for spoiler material, so we advise against reading a review before you read its book.
Past reading list
Current reading list
2013

January 9
Solaris
Stanislaw Lem
Earth maintains an orbital observation platform above the water-covered planet of Solaris, but communication with home base becomes sporadic and the last report indicates interactions among crew members are breaking down in a manner no one understands. Kris Kelvin is a psychologist, sent to investigate and correct the situation, but is immediately confronted by a living, breathing ghost of his dead wife, about whose suicide he still feels guilty. Will he be able to overcome his own, personal demon in time to help the others?

Lem explores the depths of inner space left untouched by other SF authors.

February 13
Blood Red Road
Moira Young
Saba is an 18-year-old girl who lives on a dried-up wreck of an Earth, trying to scavenge a living from landfills. When her twin brother is kidnapped by unknown forces Saba embarks on a quest to rescue him and finds herself along the way.
March 13
Ancient Shores
Jack McDevitt
North Dakota farmer Tom Lasker digs up a yacht made from an unknown substance on his land, land that has been dry for 10,000 years. Follow-up digging uncovers a building made of the same material, which is some kind of portal into a parallel universe.
April 10
The Day of the Triffids
John Wyndham
The protagonist, hospitalized with bandages over his eyes, misses the meteor shower of the century. The next morning, however, he learns he is one of the few inhabitants of Earth who was not blinded by this strange light, and that a new kind of plant, known as Triffids, is staking its claim on the planet.

The civilization that existed is crumbling fast as he joins forces with a few other sighted persons to help humanity hold on. The problem is, the Triffids grow quickly to a height of 7 feet, they can kill any passing animal with poisonous stingers, and they can uproot themselves and walk.

May 8
Diving into the Wreck
Kristine K. Rusch
Boss loves to dive historical ships, derelict spacecraft found adrift in the blackness between the stars. Sometimes she salvages for money, but mostly she's an active historian. She wants to know about the past–to experience it firsthand. Once she's dived the ship, she'll either leave it for others to find or file a claim so that she can bring tourists to dive it as well. It's a good life for a tough loner, with more interest in artifacts than people.

Then one day, Boss finds the claim of a lifetime: an enormous spacecraft, incredibly old, and apparently Earth-made. It's impossible for something so old, built in the days before Faster Than Light travel, to have journeyed this far from Earth. It shouldn't be here. It can't be here. And yet, it is. Boss's curiosity is up, and she's determined to investigate. She hires a group of divers to explore the wreck with her, the best team she can assemble. But some secrets are best kept hidden, and the past won't give up its treasures without exacting a price in blood.

What Boss finds could rewrite history, cost lives, and start an intergalactic war.

June 12
Lord Valentine's Castle
Robert Silverberg
Valentine is a traveling juggler with horse-drawn wagon on planet Majipoor. He can't remember his past and searches for anyone who can bring it back to him. Then he begins to dream and the dreams tell him he is an exiled king so he sets out to re-claim his past. This is the first volume of the Majipoor series, currently 10 books long.
July 10
WWW: Watch
Robert J. Sawyer
Sequel to Sawyer's award-winning WWW: Wake, the story opens with the recently sighted teenager, Caitlyn Decter, and her cyber-friend, Webmind. The world is about to find out about this new form of intelligence and anxious to know whether it is friend or foe to humanity. Meanwhile Webmind just wants to learn: about itself and these strange creatures who call themselves humans.
---
Our meeting place
Syzygy meets on the second Wednesday of the month at Books & Co., in "The Greene" shopping center in Beavercreek (See map at right). Meeting night and/or location can change with holiday closings or author signings, so it is good to stay in touch with our fearless leader. Meetings start at 7:00 pm and last around an hour.
We meet on the second floor, in front of the fireplace. If you don't see us, ask at the customer service desk.
---
Readers' resources (How to get the books)
Essentially, you can buy or borrow your books. If you choose to buy them you can shop among assorted on-line booksellers:
| | | |
| --- | --- | --- |
| Bookseller | | Comments |
| | | Amazon.com now sells used books, too. They offer sample pages you can read on-line. |
| | | We sometimes find books here, not available domestically. |
| | | Also offers on-line excerpts. |
| Borders.com | | Borders' on-line site has sold out to Amazon.com |
| | | Another British retailer, with an outstanding SF section |
If you live in the Dayton area, you can check the various national chains who have outlets here:
Name
Location
Phone
Comments
Barnes & Noble
2619 Miamisburg-Centerville Rd
433-0750
2720 Towne Dr
429-1660
Halfprice Books
2090 Miamisburg-Centerville Rd
438-0249
These folks are serious about that "half price" bit. We once bought a vintage paperback of the original 2001, A Space Odyssey there for 47¢.
Dayton also has a few independent booksellers:
| | | | | | | |
| --- | --- | --- | --- | --- | --- | --- |
| Name | | Location | | Phone | | Comments |
| Books & Co. at The Greene | | 4453 Walnut St | | 429-2169 | | This is our meeting site. If you mention at the register that your purchase is on the Syzygy reading list, you will get a 10% discount. This is in addition to the "Millionaire's Club" discount, if you also have a store card. |
If you have a library card from any Montgomery county library, you can borrow your book from any library in the county that has it.
Go the the Dayton Metro Library home page .
Click on "Catalog" (top of page).
Fill in as much as you know about the book and click "Go".
If that doesn't work, click "Other Libraries".
Click on "More Ohio". (You will have to enable cookies on your browser, and pull out your library card to use this service.)
Click "Standard Search". Fill in your title & try again. This scans dozens of libraries around the area.
If you get hits, the "Details" link will tell you which library or libraries have it.
If you live in Greene county, you can look up books in the "card catalog" of the Greene County Public Library. They seem to have the newer titles!

There are more public libraries in the area outside both these systems:

Finally, if you live outside the range of any of these, you can still probably locate a library near you at:
---
Links of interest to SF lovers
Search the world wide web for "science fiction" and you will get lots of hits: primarily about TV shows, movies, gaming, or conventions. All the SF links in this section are targetted at people who like books. Many of the names don't tell you much about the services they offer, so we've tried to arrange them by service.
Lists of "the best SF ever written"
Indices of author homepages
Author biographies
Author bibliographies

Book reviews
Interviews
Electronic magazine(s)
Miscellaneous
---
Contact us
For additional information about the Syzygy group, or provide comments about this web site, write to our fearless leader at the following URL:

.
---
The Syzygy readers' group home page/Revised February 2013

Copyright © 2013, Gary Lynch. All rights reserved.