Last Run of the Kettle Moraine RR in North Lake, Wisconsin
October 28, 2001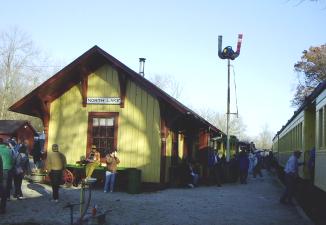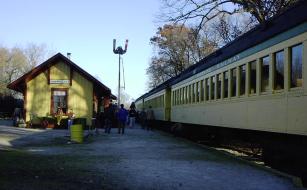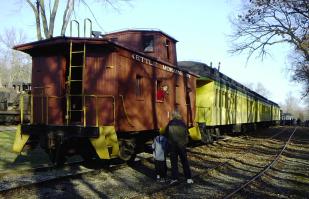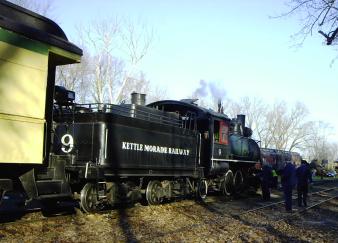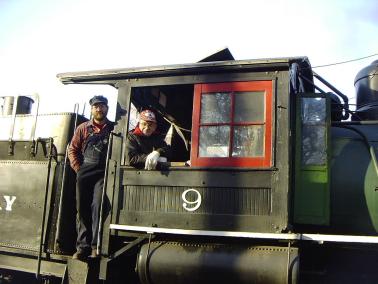 Owner Steve Butler and Richard Heimbaugh, Founder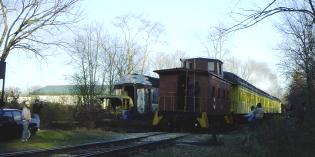 Last trip leaving North lake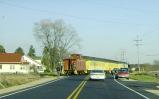 Last run across Hwy VV
From "The Lake Country Reporter" at Hartland, Wisconsin
Owner of KM RR says Town harassed it
Jim Stevens, Staff writer
November 01, 2001
Town of Merton - Harassment by town is one of the reasons he Kettle Moraine Railway has closed down, according to its owner.
The steam train that ran from North Lake to the Village of Merton on weekends since 1972 made its last trip Sunday.
Steve Butler, president of Kettle Moraine Railway Ltd., in North Lake, levied the charges in a letter to Town Chairman Dick Morris.
The town has issued KM Railway two citations for violating the town's junk ordinance. A pre-trial hearing will be held later this month, according to Town Attorney Bill Chapman.
In response to an Oct. 1 letter from Town Clerk Jeanne Ann Frederickson, Butler wrote that was the fourth time in the last 1-1/2 years he has been harassed about "so-called junk."
"This harassment has been a major factor in our decision to suspend our operations in the Town of Merton," Butler wrote.
"It is a shame that the town of Merton has allowed a business like ours to slip through its fingers because once it is gone there will not be any hope of replacing it. Instead of using it as a focal point to help revitalize the remnants of a downtown district, it has harassed, fined, and issued citations to it. It is really a wonder that a new business moving to this area would be interested in setting up shop in a political environment such as the one that has been created here," he wrote.
Butler indicated he is in negotiations with a museum "located in a community that has enough foresight to understand that a steam train like ours is a valuable asset," he wrote.
Another reason the operation has been suspended is due to delays regarding a state grant for repairs to a steam engine. Butler said he still does not have a signed document from the town that had been submitted to the state Department of Transportation. Without that document, repair work cannot begin, he indicated.
The federal grant, administrated by the DOT, is for $160,0000. The owners of KM Railway would pay $40,000.
The $200,000 project is to bring a boiler on a steam engine in compliance with new steam locomotive regulations and to repair running gears on the KM Railway's Locomotive No. 9.
The community he is hoping to relocate the engines to is willing to help transfer the grant to that community.
In regard to the other equipment, Butler said some of it is leased until 2006.
"It has taken 30 years to acquire this collection and it will take time to find proper homes for our equipment," he said.
In the letter to Butler, there are no references to "junk" but that there are many items that will have to be removed and some areas cleaned up.
Town officials did not respond to Butler's letter due to the pending pre-trail hearing.
ŠLake Country Reporter 2001