Fantasy effects
Usually seen in the such forms as clown or mime makeup, fantasy effects are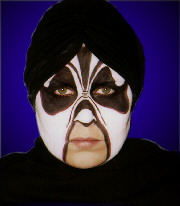 also used in music videos (probably the most well-known example is the rock group "Kiss") as well as on stage, in commercials, and on film.
Tattoos have become popular in most parts of the world and are therefore needed in many film and advertising applications. However, the widely-applied "temporary" tattoos are a poor substitute for the real thing, and inevitably look artificial and unconvincing in all but distant camera shots. JDMS special techniques can provide realistic, hand-drawn artificial tattoos which share the same "under-the-skin" appearance and artistry seen in real tattoos while retaining the removable, harmless characteristics of temporary tattoos.
Though not as commonly used as many other forms of makeup artistry, custom fantasy and tattoo effects are within Judith Denny Makeup Services' professional repertoire, and are available for your production or shoot.

Return to JDMS Home Page 

How to contact Judith Denny Makeup Services
©1996 Judith Denny Makeup Services
New Berlin, Wisconsin U.S.A.
makeup, make-up, professional makeup, cosmetics, cosmetic, video, film, old age, theater, cinema, stylist, hair style, styling, styles, lipstick, clean beauty, print, photography, glamour, movie, movies, film, cinematography, models, monster, commercials, advertising, clean beauty, bald cap, JDMS, bald capping, makeup services, advertising, videos, music videos, video production, commercial, commercials, ads, studio, prosthetics, tattoo, tattoos, bald-cap, bald, lipstick
makeup, make-up, professional makeup, makeup artist, key makeup, cosmetics, cosmetic, video, film, old age, theater, cinema, stylist, hair style, styling, styles, lipstick, clean beauty, print, photography, glamour, movie, movies, film, cinematography, models, monster, commercials, advertising, clean beauty, bald cap, JDMS, bald capping, makeup services, advertising, videos, music videos, video production, commercial, commercials, ads, studio, prosthetics, tattoo, tattoos, bald-cap, bald, lipstick