Glamour/high fashion makeup
Glamour makeup begins with the basics of "clean beauty" -- eliminating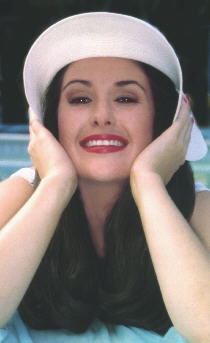 or camouflaging flaws and shortcomings, while highlighting favorable features -- and takes them a step further. By creating an illusion of extreme beauty and allure, glamour makeup lends an aura of passion, sensuality and style to productions and shoots.
The glamour effects created by the professional makeup artist are surprisingly complex. They must reflect the image of the product being sold, contribute to the feel dictated by the production's creative guidelines, augment the physical attributes of the model, and accommodate eclectic requirements such as the incorporation of product, set or corporate colors into the model's facial makeup. Glamour shoots and productions, once almost the exclusive creations of the studio, are now frequently being shot on location. This poses the additional challenges of wind, temperature and humidity extremes, as well as a blend of always-changing natural and artificial lighting, such as that found in the accompanying photo of model Heather White.
While glamour makeup is one of the facets of makeup artistry which immediately come to mind for many people, it is also one of the most challenging. Judith Denny Makeup Services has the experience, creativity and artistry to meet your production or shoot's highest expectations.

Return to JDMS Home Page 

How to contact Judith Denny Makeup Services
©1996 Judith Denny Makeup Services
New Berlin, Wisconsin U.S.A.
makeup, makeup artist, key makeup, make-up, professional makeup, cosmetics, cosmetic, video, film, old age, theater, cinema, stylist, hair style, styling, styles, lipstick, clean beauty, print, photography, glamour, movie, movies, film, cinematography, models, monster, commercials, advertising, clean beauty, bald cap, JDMS, bald capping, makeup services, advertising, videos, music videos, video production, commercial, commercials, ads, studio, prosthetics, tattoo, tattoos, bald-cap, bald, lipstick, Heather White