Injury simulation effects
Feature films, television, and even medical and industrial films occasionally need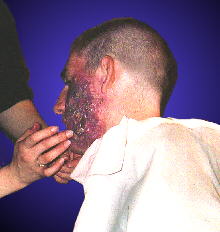 to simulate injuries to humans. Almost any injury can be simulated--burns (such as those being applied by JDMS in the accompanying photo), stab and gunshot wounds, cuts, bruises, and avulsions. The after-effects of injury (such as scabs and scars) can likewise be simulated with truly amazing realism.
Judith Denny Makeup Services has the experience and expertise to make injury simulation for your production or shoot a truly painless experience.

Return to JDMS Home Page 

How to contact Judith Denny Makeup Services
©1996 Judith Denny Makeup Services
New Berlin, Wisconsin U.S.A.
makeup, makeup artist, key makeup, make-up, professional makeup, cosmetics, cosmetic, video, film, old age, theater, cinema, stylist, hair style, styling, styles, lipstick, clean beauty, print, photography, glamour, movie, movies, film, cinematography, models, monster, commercials, advertising, clean beauty, bald cap, JDMS, bald capping, makeup services, advertising, videos, music videos, video production, commercial, commercials, ads, studio, prosthetics, tattoo, tattoos, bald-cap, bald, lipstick