Prosthetics and monster effects
Although the application of monster and special-effects makeup is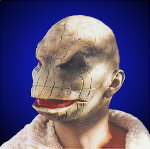 relatively unusual as compared to more mainstream makeup services, it is nonetheless an important facet of the art which is difficult to do convincingly. Monsters, "Spock" ears, aliens, and similar effects can be custom -designed for sci-fi videos and films, music videos, and any application which requires special looks applied to live actors.
Typically, prosthetics are required when special effects are to be applied with continuity over several days or weeks, requiring the casting of and impression of the actor's face, and creation of special latex-foam masks or appliances. Custom textures, shapes, thicknesses, finishes and colors can, of course, be applied, and jaw and facial movement can be retained. As you might expect from this type of sophisticated technology, results can be truly amazing compared with conventional masks, preformed "generic" appliances, and other amateur or non-custom applications.
Judith Denny Makeup Services can create a look for your film or video which is truly amazing, convincing, and maybe even downright frightening.

Return to JDMS Home Page 

How to contact Judith Denny Makeup Services
©1996 Judith Denny Makeup Services
New Berlin, Wisconsin U.S.A.
makeup, make-up, makeup artist, key makeup, professional makeup, cosmetics, cosmetic, video, film, old age, theater, cinema, stylist, hair style, styling, styles, lipstick, clean beauty, print, photography, glamour, movie, movies, film, cinematography, models, monster, commercials, advertising, clean beauty, bald cap, JDMS, bald capping, makeup services, advertising, videos, music videos, video production, commercial, commercials, ads, studio, prosthetics, tattoo, tattoos, bald-cap, bald, lipstick
makeup, make-up, professional makeup, cosmetics, cosmetic, video, film, old age, theater, cinema, stylist, hair style, styling, styles, lipstick, clean beauty, print, photography, glamour, movie, movies, film, cinematography, models, monster, commercials, advertising, clean beauty, bald cap, JDMS, bald capping, makeup services, advertising, videos, music videos, video production, commercial, commercials, ads, studio, prosthetics, tattoo, tattoos, bald-cap, bald, lipstick