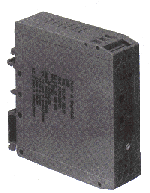 POTTER & BRUMFIELD 
CND series

5 programmable timing modes.
0.5 sec 10 100 min. programmable timing range.
Universal input (24-240VAC/VDC)
10A output relay with SPDT contacts.
Timing range and timing function switch selectable.
Time adjust is potentiometer adjustable.
Fits 35mm DIN track.

TIMING MODES

· Operate
· Interval
· Release
· Recycler
· One Shot

TIMING SPECIFICATIONS:

Timing Ranges: 0.5 to 5.0 / 1.0 to 10 / 5 to 50 / 10 to 100 sec.;
               0.5 to 5.0 / 1.0 to 10 / 5 to 50 / 10 to 100 min.
Timing Adjustment: Potentiometer adjustable within selected range.
Tolerance: -0, +20% of max. specified at high end of timing range;
           min. specified, or less, at low end.
Delta Time (for AC units add +/-1 cycle 60Hz.): +/-10%.
Repeatability (Including first cycle of operation.): +/-2% (for AC
               units add +/-1 cycle 60Hz.).
Reset Time (power interruption): 45ms, typical; 60ms, max.
Minimum Pulse Width, Control: 50ms.
Recycle Time: 45ms, typical; 60ms max.

CONTACT DATA @ 25C:

Arrangements: 1 Form C (SPDT).
Material: Silver-cadmium oxide alloy.
Rating: 10A @ 28VDC or 240VAC, resistive;
        1/2HP @ 480VAC;
        1/3HP @ 240VAC;
        1/4HP @ 120VAC.
Expected Mechanical Life: 10 million operations.
Expected Electrical Life: 100,000 operations, min., at rated load.

INITIAL DIELECTRIC STRENGTH:

Between Open Contacts: 1,000V rms, 60Hz.
Between All Other Conductors: 4,000V rms, 60Hz.

ORDERING INFORMATION:

UNIVERSAL INPUT MODEL:

Input Voltage     Timing Functions    No. of Pins    Part Number
24-240VAC/VDC     5                   6              CND

INPUT DATA @ 25C:

Voltage: Universal Input Type: 24-240V +/-15%, 50/60Hz. AC or DC.
Power Requirement:
  Universal Input Type: 10VA @ 240VAC;  5VA @ 120VAC;  1VA @ 24VAC.
                        10W  @ 240VDC;  5W  @ 120VDC;  1W  @ 24VDC.
Transient Protection: Yes.Reverse Voltage Protection: Yes.

INPUT VOLTAGES & LIMITS @ 25C
Input Type
Nominal Voltage
Minimum Voltage
Maximum Voltage
Universal
24-240VAC/VDC
20.4VAC/VDC
276VAC/VDC
Note: DC voltage must be filtered (5% p-p ripple max at nom. voltage).
AC models will operate on 50 or 60Hz.
ENVIRONMENTAL DATA:

Temperature Range: Storage: -20C to +70C.
                   Operating: -10C to +55C.
Humidity: 85% relative humidity, non-condensing.

MECHANICAL DATA:

Termination: Screw terminal.
Enclosure: Plastic DIN case.
Weight: 4.3oz. (122g) approx.

OUTLINE DIMENSIONS and WIRING DIAGRAMS.
(approx. 29K .gif @ 750 pixels wide).