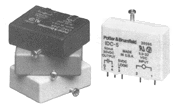 FEATURES:
All I/O Modules
· Industry standard package and pin-out.
· Color coded by function.
· 4,000V rms optical isolation.
· High immunity to false operation.
· Series compatible.
· Output modules can be controlled from sinking or sourcing logic.
· Compatible with 210 series mounting boards.

ENGINEERING DATA:

All I/O Modules
Switch Form: 1 Form A (SPST-NO)
Duty: Continuous
Isolation: 4,000V rms, 60 Hz.
Capacitance: 8pf Typical (input to output)
Operating Temperature: -30C to +80C
Storage Temperature: -40C to +85C
Potting Compound Flammability: UL94V-O
Approximate Weight: 1.38 oz. (35g).


OUTLINE DIMENSIONS
(approx. 23K .gif @ 750 pixels wide).

BUILD YOUR OWN PART NUMBER:
A 31K graphic (GIF) of Ordering Information.
This information will 'build' a part number from a list of available specifications.