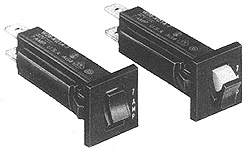 POTTER & BRUMFIELD 
W28 series

SWITCHABLE OR
PUSH TO RESET
FUSEHOLDER-TYPE
THERMAL CIRCUIT BREAKER


FEATURES

· Switchable version combines on-off switch and circuit protection
  in a single unit.
· Approved to many international standards (push to reset type).
· Replaces slow blow glass cartridge fuse.
· Labor-saving snap-in mounting.
· Button extends for visual trip indication on push to reset model.
· Rocker on switchable model moves to "overload" position upon trip.

ELECTRICAL DATA @ 25C:

Calibration: Will continuously carry 100% of rating.
             3-20A models - may trip between 101% and 134%, but
             must trip at 135% of rating within one hour at +25C.
             0.25-2A models - may trip between 101% and 174%,
             but must trip at 175% of rating within one hour at +25C.
Dielectric Strength: Over 1,500 volts RMS.
Maximum Operating Voltages: 32VDC; 250VAC, 50/60 Hz.
Interrupt Capacity: 1,000A at 250VAC, 50/60 Hz. and 32VDC in
             accordance with UL standard 1077.
Resettable Overload Capacity: Six times rated current for 0.25A through
             2A models.  Ten times rated current for 3 - 20A models.
Reset Time:  180 seconds max. for 0.25A through 2A models.  10 to 60
             seconds for 3 through 20A models.

MECHANICAL/ENVIRONMENTAL DATA:

Endurance Cycling (switchable type): Typically 30,000 operations at
                                     100% of rating.
Termination: .250" (6.35mm) quick connects.  Soldering to terminals is
             not recommended.
Mounting: Snaps into panel from front.  See Recommended Panel Cutouts
          (not shown).
Approx Weight: 0.35oz (10g).

OUTLINE DIMENSIONS
(approx. 47 .jpg @ 780 pixels wide).


BUILD YOUR OWN PART NUMBER:
A 49K graphic (jpg) of Ordering Information.
This information will 'build' a part number from a list of available specifications.