Dinosaur Field Expeditions
---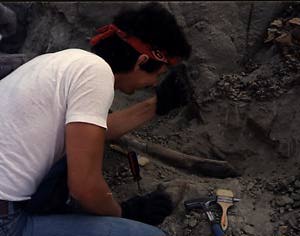 My name is John Krolikowski and I have been on a number of paleontological field expeditions. It all started for me back in "88 when I went with the Milwaukee Public Museum to Montana. The picture to the left is me trying to expose the ulna of Edmontosaurus annectens. Question:
Have you always wanted to participate on one of the dinosaur digs?
Are you wanting to experience the thrill of discovery of fossil remains ?
Do you want to learn the techniques that paleontologists use in exploration and excavation of dinosaurs?
If you answer yes to any of these questions, then check out the following sites! Typically, participants pay a share of the expedition costs and prices do vary. Orginally this page was intended for the US and Canada, in the future it will provide information globally.
---