DMU Visits Milwaukee
---


Colorado Railcar brought their DMU (Diesel Multiple-Unit) self-propelled commuter railcar to Milwaukee on December 15, 2003. The car was open for tours from 11:00 a.m. until 1:00 p.m. For more information on Colorado Railcar and the DMU visit their website.



A view of the controls inside the cab. This single power car can get two miles per gallon, and a half-gallon per mile with a commuter consist.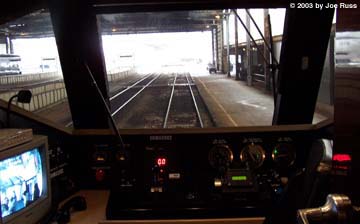 A view out the cab window. The monitor on the left displays the stairway entries for both sides in the middle of the car.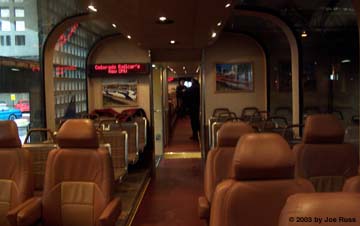 This is a view of the passenger seating in the cab-end of the DMU, looking back from the cab. For demonstration purposes, both commuter and first-class seating is in this car. It also features the glass-domed roof option. After it completes a year of testing, this car will be in service on the Alaska Railroad.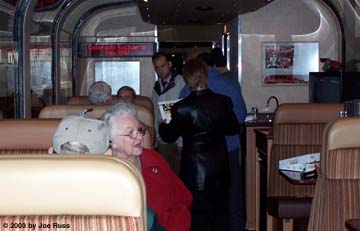 The rear-half of this DMU is configured with booth (business class) seating and has a sink, microwave, and refrigerator. It also has laptop plug-ins. On this half of the car (but not shown) is also a wheelchair access restroom. This view is looking towards the center of the car.



A rear-view of the DMU. The unit is capable of pulling 210 trailing tons, or two commuter coaches. And aside from the transmission, the 85-foot unit is American-made. The cost for this car is $2.9 million.

---
Return to Railfan News.

All text and photos by Joe Russ. Copyright © 2003 & 2004 by Joe Russ