A listing of Model Railroad & Railfan
Events and News
from around Southeastern Wisconsin,
including Trainfest
2011 Schedule


Month
Updated
Month
Updated
January
Departed
July
Departed
February
Departed
August
Departed
March
Departed
September
Departed
April
Departed
October
Departed
May
Departed
November
Arriving
June
Departed
December
Departed
The "updated" section is the date a month's page was updated. All events and information subject to change without notice and no warranties or guarantees are assumed for the information provided.
Welcome to the Schedule Board - a listing of model railroad and railfan news and events in and around Southeastern Wisconsin. Compiled and hosted by Joe Russ (a member, and former board member, of the WISE Div., NMRA) as a service to the model railroad and railfan community.
WISE Division Meets:
(updated 9/5/11)
The WISE Division's next event is September 18 in Brookfield at the Best Western Plus Midway Hotel, 1005 S. Moorland Rd. Hope to see you there.
Milwaukee-Area Railfan Guide Link
To help those looking to visit Milwaukee for Trainfest, visit the Milwaukee-Area Railfan Guide Google map.
Speedrail wreck annniversary
September 2nd marked the anniversary of the NMRA Speedrail wreck in 1950 which claimed 10 lives. Click here to see an article I wrote about it, and the historic video from someone was was on the train behind the wreck.
Tweet About Updates
For the past few months I have been experimenting with Tweeting on when I do monthly updates and important, last-minute events. If you Tweet and would like to get Tweets from the Schedule Board, you can do so by joining the ScheduleBoard Tweet.
---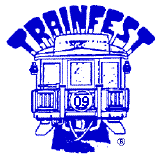 The news you won't find on the official site...
Trainfest 2010 was November 13 and 14.
Attendance: A new record was set, as announced after the show on Sunday there were 12,756 on Saturday, 10,720 on Sunday for a total of 23,476. Thank you to all who attended and exhibited and for making Trainfest the show that it is. There may be updates to this later.
---
---
And down in the Valley...
A broad group of partners is working to restore the neglected river valley at the very heart of Milwaukee. For updates visit the Menomonee Valley Partners, Inc.
---
Other/Old Schedule Board News:
A few years ago a show was cancelled, unknown to me and others, months after the flyers were out. This resulted in me getting a few nasty emails about not making the correction - even though I didn't know about it. So, be forewarned that the information I post is taken off of flyers I have now and if the dates are on them I have no reason to assume they will change. Just like if you pick a flyer up in a hobby shop.
---

NOTE:
All events and information subject to change without notice and I assume no warranties or guarantees for the information provided. As this listing is done as my volunteer effort to help promote railroad related hobbies and the volunteer groups that host the events, some errors may find their way here. I would appreciate being notified of any errors you may find so they can be corrected. If you have any comments about these events pages, please feel free to contact me at scheduleboard@execpc.com.

Want to have your group's event listed? Find out here!
---
Pages designed, written, and hosted by Joe Russ, WISE Div., NMRA.
Copyright © 1996, 1997, 1998, 1999, 2000, 2001, 2002, 2003, 2004, 2005, 2006, 2007, 2008, 2009, 2010 and 2011 by Joe Russ