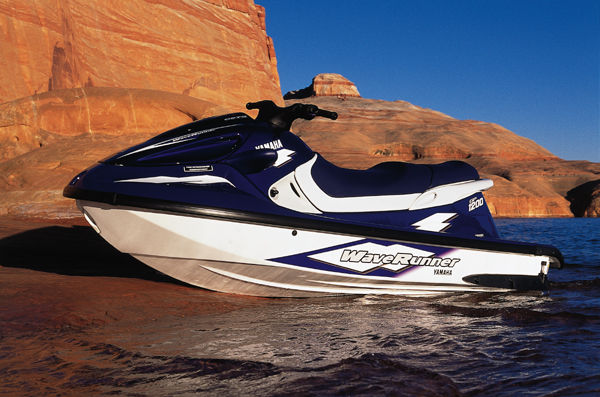 1999 YAMAHA GP1200 WaveRunner
SPECIFICATIONS
CENTERLINE LENGTH, (SHEET MOLDED COMPOUND HULL, SMC) 112.6"
BEAM, (SHEET MOLDED COMPOUND HULL) 44.1"
APPROXIMATE DRY WEIGHT, 525 LBS, ski only trailer adds additional weight.
DRAFT, (N/A)
FUEL CAPACITY 13.2 GAL, (87 Octane Minimum), includeing the reserve,
FUEL CONSUMPTION: 14.0 GAL PER HOUR, wide open throttle,
OIL INJECTION CAPACITY 4.2 QUARTS.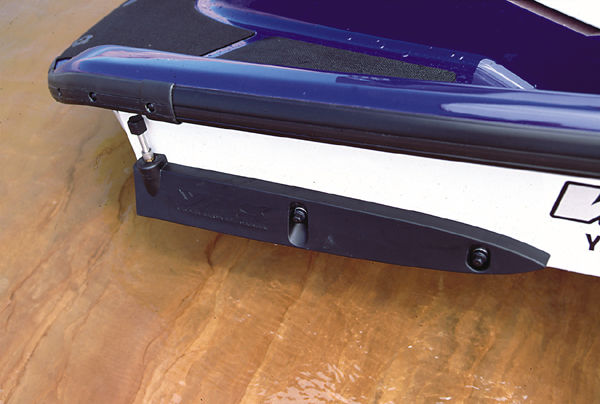 SPONSONS
SPONSONS: FULLY ADJUSTABLE.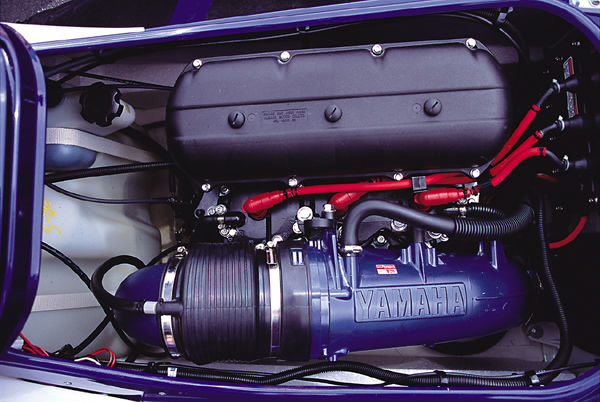 ENGINE
ENGINE TYPE: YAMAHA TWO STROKE, IN LINE THREE CYLINDER,
BORE X STROKE: 84.0mm X 68.0mm,
DISPLACEMENT: 1131cc,
HORSEPOWER: 135HP,
COMPRESSION RATIO: 6.0:1,
INTAKE SYSTEM: CRANKCASE REED VALVE,
FUEL-INDUCTION SYSTEM: 3-MIKUNI SUPPER BN 44mm CARBURETORS,
EXHAUST SYSTEM: CAST-ALUMINUM, WET TYPE EXHAUST,
COOLING SYSTEM: WATER-COOLED, OPEN LOOP.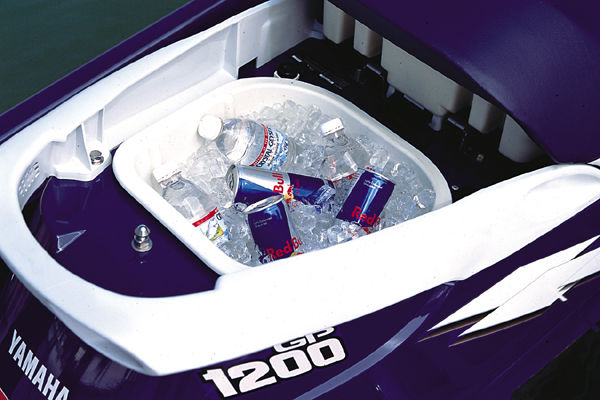 STORAGE
COOLER: UNDER REAR SECTION OF THE SEAT, 5.6 GALLONS,
STORAGE CAPACITY: 4.4 GALLON BOW TUB, .26 GALLON GLOVE BOX.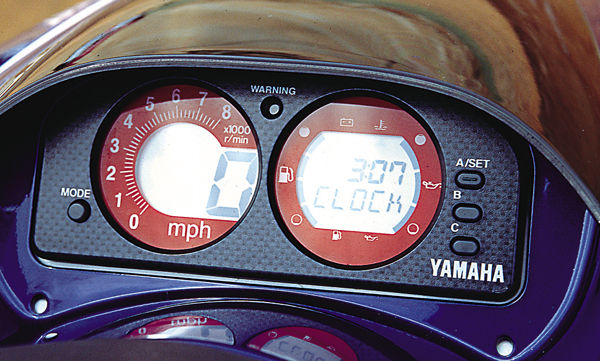 INSTRUMENTATION
FUEL GAUGE: LCD LEVEL INDICATOR BAR WITH LOW LEVEL LIGHT AND BEEPER,
OIL GAUGE: LCD LEVEL INDICATOR BAR WITH LOW LEVEL LIGHT AND BEEPER,
SPEEDOMETER: LCD DIGITAL READOUT,
TACHOMETER: LCD LEVEL INDICATOR BAR,
HOUR METER: LCD INDICATION IN TENTHS OF AN HOUR,
TRIM GAUGE: MECHANICAL INDICATOR ON THE TWIST GRIP,
OTHER INSTRUMENTATION: LOW-BATTERY VOLTAGE, ENGINE-OVERHEAT
WARNING LIGHTS AND BEEPERS, DIGITAL CLOCK, TRIP METER, HOUR METER
AND TRIP TIMER.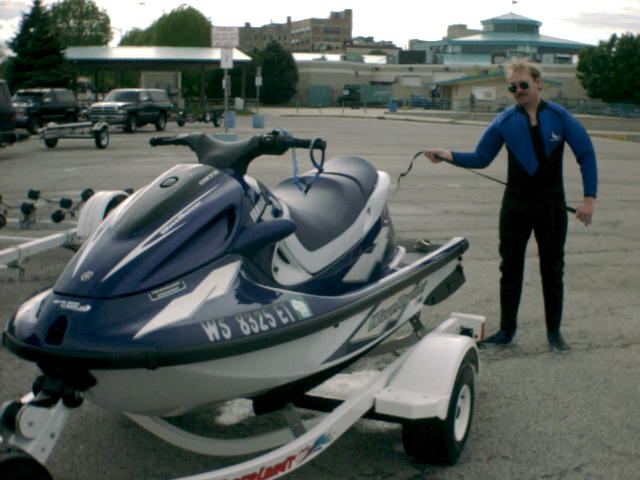 DRIVE SYSTEM
DRIVE SYSTEM JET PUMP: AXIAL-FLOW, SINGLE STAGE,
JET PUMP DIAMETER: 155mm,
JET PUMP REDUCTION NOZZLE DIAMETER: 86mm,
IMPELLER: STAINLESS-STEEL, THREE BLADE, 15.2 deg. PITCH,
TRANSMISSION: DIRECT DRIVE,
TRIM SYSTEM: QSTS, quick shift trim system, 5 POSITION.




LAKE HILL MOTORS & MARINE
HWY. 72 EAST, CORINTH, MS 38834
Phone 1-800-569-6205 Facsimile (601) 287-7645
Special Thanks to Pug Vickers, Sales

YAMAHA MOTOR CORPORATION, U.S.A.
6555 Katella Avenue, Cypress, CA 90630
Phone 1-800-962-7929 Facsimile (714) 761-7859

HOME, SPECIFICATIONS, SPONSONS, ENGINE, STORAGE, INSTRUMENTATION, DRIVE SYSTEM, BACK TO THE TOP.