Penumbra CD013
Elementals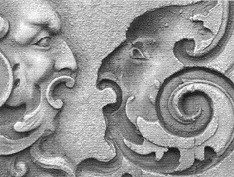 Photo: Thomas Gaudynski
The electronic music pieces by Thomas Gaudynski on ELEMENTALS were composed in 2001 using multi-channel digital recording equipment and a wide variety of sound sources, including guitar, midi guitar-driven synthesizer, feedback system with digital effects, percussion and prerecorded water, bells and electronic sounds. Thomas Gaudynski writes:

Elementals is a shift away from my gestural guitar and synthesizer playing. I look upon these pieces more as imaginary landscapes or an exhibition of sound pieces. For me, this is a return to the basics of classic electronic music. Although I didn't try to imitate their work, a number of composers where on my mind at the time the pieces were made. Pauline Oliveros and her feedback and signal processing; Alvin Curran's overlaying of evocative prerecorded sound with slow, unfolding electronic statements; Ilhan Mimaraglu's collage and juxtaposition of modified instrument sounds; David Rosenboom's synthesized, arpeggiated patterns; and Iannis Xenakis' uncompromising layering of densities.

THOMAS GAUDYNSKI has been active in the creation and performance of contemporary music since the mid 1970s. He has performed throughout the United States and in Canada and has worked with musicians Davey Williams and LaDonna Smith, Anne LeBaron, George Cartwright, David Moss, Michael Lytle, and Malcolm Goldstein. Based in Milwaukee, WI, he was a member of various improvising ensembles, including Cheap & Live Electronics, DG&G, and Time & Place (with Steve Nelson-Raney). The trio DG&G (with Diana David and Paul Gaudynski) released the LP titled Object Lessons on their own (a)R(t) NOISE label in the early 1980s. Thomas Gaudynski's collection of essays on experimental music and graphic design , Artifacts, was published by Necessary Arts in 2001.



This CD is released in a limited edition of 300 copies.

Email Penumbra Music
Copyright © Penumbra Music