CLARE MENTE
Self Taught Painter of The World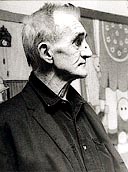 Clare Mente
(photo by Philo T. Ogden, 1999)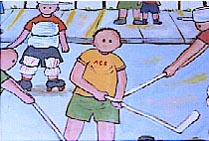 detail from Untitled (Street hockey), acrylic on navigational chart, 24.25"x36.5", $800
"Ace" was Clare's nickname as a child growing up on the streets of Milwaukee.
Clarence Mente, 45 years a merchant marine, mercenary and Foreign Legionnaire, paints gentle memories from a childhood of depression-era poverty. He also paints violent images of war and man's inhumanity to just about everything, and these he paints from the viewpoint of a pacifist. Contradictory? Of course. His first press appearance was about his disappearance. In 1951, while serving on a Great Lakes freighter, he vanished into the bowels of the ship for 18 hours, missing two watches and sparking an intense "man overboard" search. He'd become so engrossed in his painting that he completely lost track of time. A newspaper article from that time shows him posing with three of his paintings -- one is like Modigliani, another like Utrillo, another resembles Marsden Hartley. From these typically '50s bohemian styles he departed to find his own vision, eventually arriving at a bright, comic-like style with often heavy narrative baggage. Head lice, petty theft and orphanages don't ordinarily make for pretty pictures.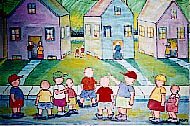 "It's Gonna Rain", acrylic on navigational chart, 36"x48", $900
To read a review of Clare's first exhibit at KM art, click below:
Milwaukee Journal Sentinel review by James Auer, 11/25/98
MORE SOON!