ROY STAAB
Environmental Site Installations
Roy F. Staab creates artwork that is meant to vanish. The photographs he takes are the only tangible product resulting from the creation of his sculpture installations.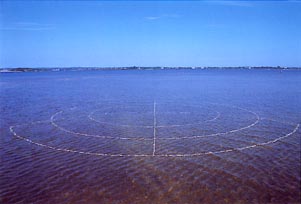 "Refractive Pearls", 50'x50', white stones from beach, underwater, August 21, 1998, Mecox Bay, behind Flying Point, Bridgehampton, New York.
Conceived at the site, made with natural materials from the surrounding area, the works themselves interact with and become part of nature. He has created work in locations from Finland to Japan, and throughout the US and Canada.
KM art exhibits the artist's photographs, sized 16"x20" and 20"x24". Call or email for further information.
To view a recent article on Roy's work in Terrain Magazine, click Sculpture in the Water, by David Rothenberg
KM art placed one of his photographs and a large work-on-paper from the mid-80s in the collection of the Milwaukee Art Museum.
Other works-on-paper are in the collections of the Metropolitan Museum of Art in New York, Le Fond National d'Art Contemporain and Musee d'Art Modern in Paris, France.
Visit these sites to view additional examples of his sculpture:
MORE SOON!