Bald capping techniques
Bald-capping techniques are used to create the illusion of partial or total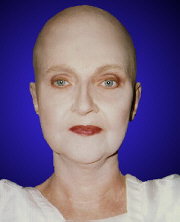 baldness. Often used with other techniques to create a complex composite look, professional bald-capping is difficult to detect and can conceal a surprising amount of natural hair. The accompanying photo demonstrates how effectively this illusion was created by JDMS on a woman with extremely thick shoulder length hair. Another example of bald capping can be viewed on the JDMS Old Age page.
Judith Denny Makeup Services can provide top-quality professional bald-capping for video, film or print.

Return to JDMS Home Page 

How to contact Judith Denny Makeup Services
©1996 Judith Denny Makeup Services
New Berlin, Wisconsin U.S.A.
makeup, make-up, professional makeup, cosmetics, cosmetic, video, film, old age, theater, cinema, stylist, hair style, styling, styles, lipstick, clean beauty, print, photography, glamour, movie, movies, film, cinematography, models, monster, commercials, advertising, clean beauty, makeup artist, key makeup, bald cap, JDMS, bald capping, makeup services, advertising, videos, music videos, video production, commercial, commercials, ads, studio, prosthetics, tattoo, tattoos, bald-cap, bald, lipstick