"Absolutely great--and impressive that you held the children's attention & made them laugh! "
--Mellisa Blaschka. Whitefish Bay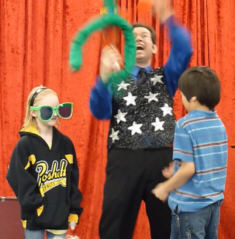 "Just to thank you again for your show. The kids enjoyed it a lot and I know Juan felt special. You delivered as promised!! I will definitively recommend you to other parents that might be looking for something special for their kids. Also thank you for getting Elsa involved. We all had a good time."
--David B. New Berlin

You Want the Best Children's Party Entertainer in the Milwaukee area?
You're at the right place. Great Scott won that distinction from Parent's Connect (a Nicelodean run website). You want the best entertainment you can find. But you don't want to break the bank either. I understand.

Your child's birthday is special -- almost magical, you might say. I mean -- there really are so few to celebrate when they are young. Here's what Great Scott the Magician (that's me) can offer you.
You want a party in the Milwaukee area that is fun!
That's of paramount importance. I'm a full-time performer and I know how to bring loads of fun to your child's birthday party. I entertain literally thousands of children every year. There's one thing that is sure--laughter is the music of childhood. So expect to hear plenty of that when the kids are watching a Great Scott magic show at your child's birthday party.
They will be amazed as well. After all, its a magic show. You want fantastic illusions that capture the imagination and bring oohs and ahhs to everyone in the room.
You also want the kids engaged. There are so many places for the children to get involved in a Great Scott magic show -- starting with your child.
It's your child's special day. So I treat the birthday child like star he or she is. From the start you'll have lots of opportunities to capture the looks of awww, wide mouthed smiles, and outright laughter. So get your camera out and be prepared to take some pictures.
That's just for starters, visit Milwaukee Magician .com to read all about the various packages available from this Milwaukee magician. And read what others are saying.
Call us at
Great Scott has performed in or near these great Wisconsin towns:
Great Scott 'It Must Be Magic'. Award winning Southeastern Wisconsin Magician. Performs illusions for Birthdays to Banquets, Close-up or Stage. Presents a Gospel Message for churchs using 'magical' object lessons. Milwaukee magic Birthday Magician Milwaukee. Children's Parties? Try Great Scott in Waukesha, Brookfield, West Allis, Oak Creek, Mukwonago, Burlington, Waterford, East Troy, Lake Geneva, Delevan, Franklin, Milwaukee, South Eastern Wisconsin. Great Scott Magic provides Family Fun, Comedy, laughter --all from award winning magician Scott Obermann
Key words for this page: birthday magician milwaukee, Entertainment, milwaukee birthday magician, magicians, birthday magicians, birthday, magician, Party, Great Scott, Wisconsin birthday party magician, magic shows, magic show