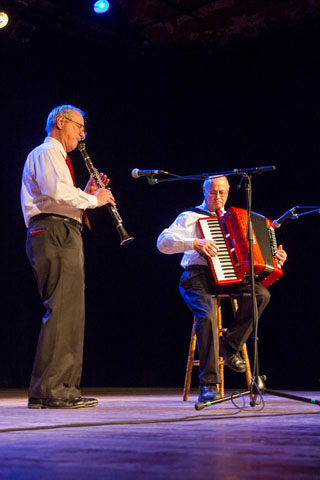 Turner Hall - Milwaukee
What We Do
Music programs, with or without a theme.
Handle most song requests.
Golden Oldies - Music from the 30's, 40's and 50's.
Craft background music for a dinner or event, with popular and standard tunes.
A Musical Journey Through Europe - Play Ethnic Style Music like German, Italian, Polish Polkas and Croatian.
Music Is Fun - An educational musical describing terms and techniques with song examples.
Wedding service and reception.
Plan and play a Polka Mass.
Everyone enjoys hearing the music of Rich Regent, clarinetist, and Bill Anderson, Sandy Bednarek, Jerry Smeiska, or John Dudzik, accordionist. A mix of improvising skills and entrancing harmony which combine to energize jazz, tangos, Polkas, dazzle Dixieland, play danceable waltzes or create emotional blues.
For a larger event, if you wish, add our banjoist Gary Musto, percussionist Chris Dudzik, or vocalist Sue Baley.
Please hire the Rich Regent Band for your next event.
E-mail Rich Regent Band or phone 414-282-0312.