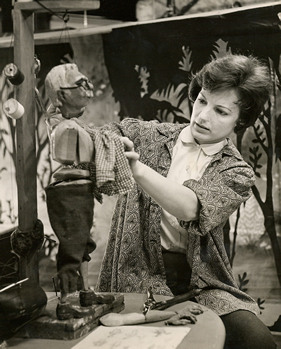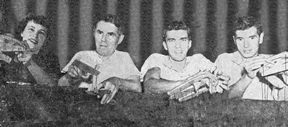 For three generations and over 50 years the Reed Marionettes have brought puppetry to thousands of Midwest schools, libraries, and children's theaters. The company is well known for superb manipulation, finely crafted puppets, and quality stories that educate as well as entertain. Besides performing for schools and libraries, company credits also include three national festivals and one international puppetry festival, TV for PBS, work with a young Jim Henson, and clients as varied as General Electric and the Milwaukee Symphony.

The original Reed Marionettes in 1950. Claire, Benton, Alan and Robin Reed on the stage of their production "Alice Through the Looking Glass"

Edith Reed
1928-2001

In 1955 Edith married Robin Reed and together they took over the family puppet company. For over 30 years they toured large marionette productions for countless audiences throughout the Midwest. Edith not only performed but was the voice for many of the characters. Her design skills and careful, meticulous attention to detail resulted in wonderful costumes for hundreds of puppets over 45 years. Edith stopped touring in the early 90's but continued to create voices, puppets and costumes up until her death. Her artistic input and direction played a vital role in every Reed Marionettes show and will continue to entertain audiences through the puppets she helped bring to life.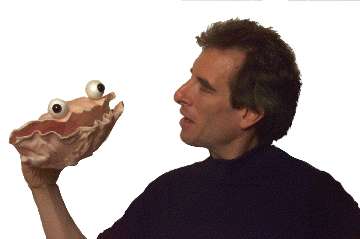 Tim Reed
Like his father and grandfather before him, Tim Reed is the third generation of his family to be a professional puppeteer. As a youth, he toured part time with his family's large marionette productions. After earning a M.S. in Educational Psychology, Tim returned to puppetry full time in 1989 with a new commitment to education through the art of puppetry. Since 1993, he has created and toured seven solo shows for libraries and elementary schools using an eclectic mix of traditional puppetry, live acting, multi-media, and animatronics. His productions are widely recognized for their curriculum based content and for addressing specific educational standards as well as for their entertainment value. Credits include Puppeteers of America National Festivals (2001 & 2003) and 1999 and 2002 regional festivals, University of Wisconsin-Milwaukee and Madison, S.C. Johnsons Wax and countless libraries and schools.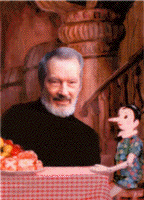 Robin Reed
Robin Reed started professional puppetry in 1950 with his parents and brother, and continued to produce shows with his wife, Edith from 1955 to 1999. From 1988 to 1998 he toured schools with son, Tim, who is currently touring one-man shows. Robin and the Reed Marionettes have performed thousands of performances of children's classics throughout the midwest, originally with the family, then with Edith and for the past twenty years with several apprentices, and Tim. They have returned an average of 15 seasons to children's theater programs of Detroit, Omaha, Wichita and Milwaukee's Summerfest, and for 34 seasons on the program in Oak Park, Illinois. Robin worked with Jim Henson and the Muppets in the early days, and has performed three Milwaukee Symphony puppet concerts. He hs done television for PBS, Wisconsin Electric and Wisconsin Gas; and sponsors have included the Green Bay Packers, Johnson Wax, and the Boston Store. The Reed Company has performed for two national and one international Puppetry Festival of the Puppeteers of America, and Robin is a three-term past president of the Wisconsin Puppetry Guild.