Muskego Access
Channels 14 and 25
Muskego Public Access Group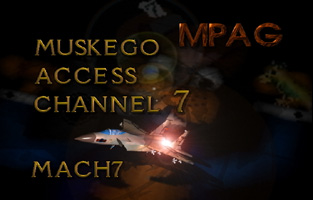 Muskego Access
Channel 14 and 25
Muskego City Hall W182 S8200 Racine Ave.




Muskego, Wisconsin 53150

262-679-4108 (voice)
262-679-5637 (fax)

Muskego Access Channel 14/25 Operations
Hours of operation:
Cablecast:
Operations: City Hall Open Hours

Monday thru Friday 8:00 AM to 4:30 PM.
Closed: Saturday & Sunday
Weekend Access by Appointment

Contact any MPAG officer or the Parks and Recreation Office for more info regarding access to the studio.
Administrative Offices - Muskego Parks and Recreation Department:

Monday through Friday - 8:00 A.M. - 4:30 P.M.

Other Activities
Training
Out of House tape submissions

MPAG Information
Tape and Program Submission and related forms and policies.
Channel 7 Change to 25, Channel 14

Other information:

Alliance for Community Media Electronic Mailing List


Alliance for Community Media HomePage



Cable TV in Milwaukee


Yahoo's Links to Public Access Television

MATA Community Media (MCM) - Milwaukee's Public Access
This page was made, and is maintained, by Jeffery S. Jones.
Copyright © 1997-2002 Muskego Public Access Group - Muskego Access Channel 14/25